March 18, 2018
From the date above it had been 9 years since the below article was created and published in the Fairbanks Daily News Miner's "Homes and Real Estate" Spring 2009 Edition. Needed to know if there had been any notable changes in Mexican Real Estate specifically in buying or selling. Searched the web for any newer posting and didn't find any basic changes except it felt to me like the process was more refined especially with technology. There was quite a bit more information then had been in years previous.

Would imagine if you're interested in purchasing or selling Mexican Real Estate you'd probably try to read most information available. One article found on the net impressed me as being very concise and providing both objective and subjective points which was much appreciated. http://www.mexperience.com I would just add, one weak area of the posting lacked information on specifically purchasing property on Ejido land. Although they most likely stayed clear of the topic due to the risky nature of that type of purchase.

Thanks! Rich

"My Mexican Real Estate Adventure" or….
How I Spent My Winter Vacation
March 19, 2009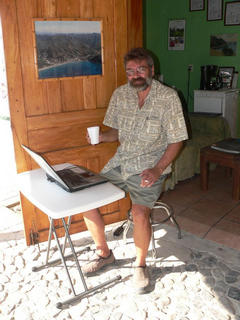 Just didn't seem like I could take another Fairbanks Winter. For 27 years I'd struggled through, one after another, each winter feeling longer, darker, colder than the last. SAD, of course, was the culprit.

Last winter I spent some time scheming ways to break away from my real estate business during the worst of the winter months and thought I'd found a solution. Spend the winter in Mexico, selling real estate while still maintaining my Fairbanks office via Internet and cell phone. I'd "get by with a little help from my friends," avoid SAD, and maybe even make a few pesos.

Still wasn't totally certain I was going through with my plan until about a week before my departure date of November 18th. Then I took a hard look at the current listings and sales where my physical presence might be needed, and thought back on the "Awakening Speech" (as I call it) in September by President Bush. That speech hurt not only our local real estate market but the U.S. and World markets as well. Though in retrospect, I can see that up until then the bad news had just been swept under the rug. At any rate, the autumn Fairbanks Real Estate Market, which is usually one of my better quarters financially, turned out to be a dud for me and everyone else I knew. Although those Brokers with Foreclosure listings might contend it was a good market.

So, back to the story: zip forward a 5,100 mile drive south with my wife Betty in our Honda pick-up truck, loaded down like the Beverly Hillbillies. A week later, Betty had to go back to her job so now here I am, a slightly-older-than-middle-aged man, living alone in a tent on the beach, in the most beautiful, magical place on the planet, La Manzanilla, Mexico.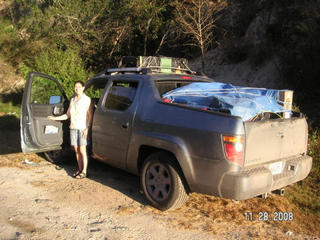 La Manzanilla (pronounced "Lamanzaneeya" i sounds like ee and two lls sound like y) is a fishing village with what I'd guess to be a winter season population of about 1,500 lively souls, made up of the local Mexican community plus a mix of full and part-time residents from Canada (about 75%), USA (20%) and a smattering of everywhere else (5%). It's located on the Pacific side at the southern end of Tenacatita Bay, 125 miles south of Puerto Vallarta. What's so magical? The fruits, flowers, birds, fish, weather, sunshine, a 3 mile beach of gentle, bathtub warm waves, and the people, to name a few.

So beautiful and peaceful, I fear this village won't be a village for long.




Mexico has the 5th largest land area in the Americas and is the 14th largest country in the world with 761,404 square miles. The 49th State of America commonly referred to as Alaska is only slightly smaller at 663,091 square miles.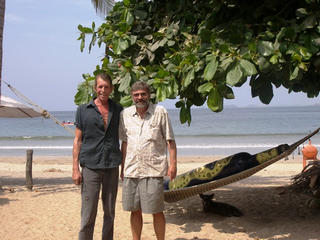 Came down here with the notion that if folks up north (both Canadians and U.S.) pulled their money from the stock market, they'd need to reinvest it someplace. Trouble is, most people lost that money, and some lost so much of their retirement funds they'll need to re-enter the work force to recoup. So my idea, although brilliant, didn't quite pan out this year. With computer in hand, I've monitored the planet and discovered no country has escaped the down cycle. Some have fared better than others but it seems, as the U.S. economy goes, so (doesn't) go the world.I had been introduced to a broker here several years ago, guy who seemed to have his finger on the pulse of the village and local community real estate. We connected again this year and decided I would assist and learn the ins and outs of Mexican real estate.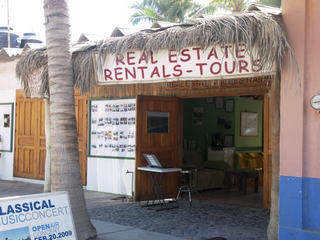 Daniel's office is a pass-through building, open to the main street on one side and the beach on the other (very picturesque). On the street side is a palapa styled ramada, and it was here, under these palm branches, that I set up my computer and office. My job is to assist passersby who stop to look over our extensive bulletin board of available property listings. For interested and qualified buyers, I provide a tour of the village and outlying areas, assess what they're looking for, and then show appropriate properties. If they have further interest in a particular property, the broker takes over.

Mexican Real Estate to a foreigner is "Bizarro World," so buyers need accurate information and counseling on, among other things, non-Mexican (foreigner) real estate purchases in the "Restricted Zone," Title vs. Ejido, financing (not), and market conditions.
www.costaalegreproperties.com
Mexico's estimated population is 109 million people.
Alaska 's estimated population is approximately two thirds of a million people.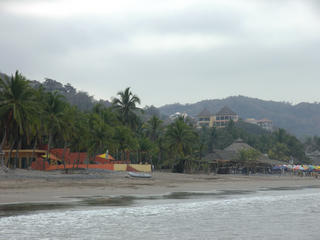 Restricted Zone: Foreigners are not allowed to purchase Mexican property within 100 kilometers (62 miles) of a border, or 50 kilometers (31 miles) of the coast. In 1994, the Mexican government wanted to spur foreign investment along its borders and coastline, but to do so needed a tool to circumvent the country's constitution. They came up with "Fideicomiso" otherwise known as "Bank Trust" whereby a Mexican bank holds title as the trustee and the foreign buyer is the beneficiary with all the rights and privileges of ownership. Works great, no problemo, what's next?

Ejidos and Titled Land: Mexican agricultural land currently is or was under the jurisdiction or control of a local Ejido. To simplify the definition, groups of locals in any given agricultural location were given the right, by the government, to control their local lands. The land is or was not "titled." Although local Ejidos have subdivided their properties (again, a simplification), have given individual Ejido members control over specific lots, and those members have in turn sold lots to foreigners, the land is not titled. So, how can a foreigner claim ownership? They can, in an odd sort of way but not recognized by the Mexican legal system.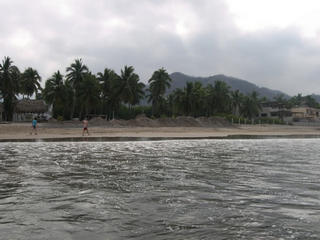 Here's where you need to perk up: the land/property needs to be transferred to a Mexican citizen who is the front person for your ownership. The Mexican individual holding ownership papers (not title) is a go-between referred to as a "Presta Nombre." Between the foreign buyer and the Mexican citizen there should be four agreements which guarantee the foreign buyer the rights and privileges to the property: a Lease Agreement, a Power of Attorney, a Promise to Transfer Ownership, and (potentially the greatest safety factor) a "Will." The "Will," the 4th of these agreements, can sometimes be a forgotten or touchy subject, and without one, the source of dispute.

Purchasing Ejido property can be risky. It is usually purchased at a greater discount than titled property to those that have fallen in love with the surroundings and importantly, those that can afford to take the hit if things go awry. Although if you Google "Ejido", you'll find a good amount of negative content, what you typically won't find are the success stories, buyers who have made great gains financially and live out their retirement on what was originally Elido land.

With careful planning and the proper paperwork, what usually happens is Ejido properties evolve into titled properties by means outlined in the law. This has happened in many communities throughout Mexico. The city of Manzanillo, an Alaska Airlines destination south of La Manzanilla, is primarily titled. From the outside looking in, it appears those locals that have the greatest outside money influence have converted to title. Also, as the Ejidos' original purpose of protecting agricultural land for the local farmers becomes outdated in favor of tourism, and the Federales want titled land for capital gain tax and the Municipalities for property tax purposes, there is increasing pressure on the Ejidos to convert.

Note: As can be assumed, Titled Property is worth a good sum more than Non-Titled.

Tourism: The 2004 statistics from the National Association of Realtors put that year's tourism at 20 million visitors and it accounts for 8% of Mexico's Gross Domestic Product (GDP)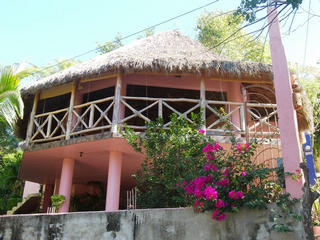 More Title vs. Ejido Info: Recently titled residential homes in Mexico can now be financed typically up to 80% of the property's appraised value using the property as collateral. This is typical in the U.S. and Canada but fairly recent in Mexico. Ejido property cannot be financed because there is no title. No title means no Title Insurance. No Title Insurance means no financing. Most Ejido transactions require a cash out but on rare occasions you might find a seller willing to finance short term.

Title Insurance: Some web information will maintain that it's just as safe and cheaper to use a Public Notario to process the transaction and ensure against defects on the title rather than use a title company. A Notario is a Licensed Attorney in Mexico that has been appointed by the Federales as a keeper (of sorts) of property records and to ensure title is properly free and clear of claims. These attorneys are held in high regard in the Mexican legal system; they are in limited supply and make a handsome living. They don't advocate for or against a buying or selling party, but instead act as facilitators. Some web info might maintain that Title Insurance is unnecessary, but I suggest the use of a Title Policy to insure against the unknown. Ejido claims can be an unknown to recorded documents. There is a specific method (to lengthy to go into here) for property to be properly transferred from Ejido control to Title. What's important to note is that if not done properly, there can be future title defects, i.e. "a cloud on the title." Title Insurance provides the safety of a more secure Title especially if the policy protects against Ejido claims.
Bottom Line:
Titled Property is more expensive but less risky.
Ejido Property is much cheaper but does carry some risk.
Titled property will generally gain in value in the historic, conventional sense.
Ejido properties are more likely to bring much larger gains (especially if titled later) and/or a total loss.
Titled property for foreigners in the Restricted Zone requires a Bank Trust "Fideicomiso".
Ejido property for foreigners in the Restricted Zone requires a "Presta Nombre" (Mexican Citizen) go-between, which requires careful planning and some "good faith."
So why would anyone purchase an Ejido property?

1. Love of the property and surrounding area.

2. Lower Price.
3. Potential to make large financial gains.
Who goes to Mexico?
90% US, 4% European, 3% Canadian, 2% Latin American, which adds up to 99% so 1% must be other.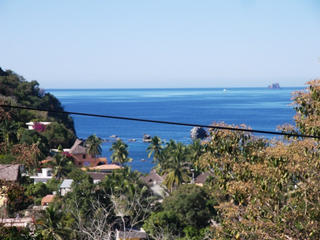 Finding a Mexican Agent: Mexico has 31 states, each with regulatory powers over Real Estate Licensing. No state, to my knowledge, has a licensing requirement for Real Estate Sales. Anyone can set themselves up as a Real Estate Sales Agent or Broker, although they do need to obtain a Business License, primarily for income tax reasons. There is continued talk and optimism within the Mexican real estate community to encourage local states to adopt a licensing policy. At a real estate presentation in La Penita, one of the highlighted speakers was very confident licensing was going to happen soon. But for now, anybody with zero qualifications, little education, no background or experience can call themselves a Real Estate Broker. As you might imagine, transactions have been mishandled and clients and customers fleeced. Although I personally don't know of any such incidents, it was a hot topic at the La Penita Presentation. Which is not to paint a gloomy picture: there are many qualified real estate personnel throughout Mexico. Just make sure you take the time and effort to find one.

Off the cuff tidbit: Run like the devil if the agent self proclaims and professes their honesty.

The real estate association in Mexico -- a cousin of the US National Association of Realtors (NAR) -- is called the Asociación Mexicana de Profesionales Inmobiliarios otherwise referred to as AMPI (ampee). AMPI has a code of ethics its members must follow, stresses education, and is influential in government housing policy, similar to NAR. Most of the AMPI membership appears to be in and around the larger cities and tourist destinations, but is still sparse in comparison to NAR. Although by using an AMPI member you will increase your odds of obtaining good representation, remember that there are good, adequate, and bad realtors to be found in AMPI, Non-AMPI, REALTOR, Non-REALTOR, and any other professional organization.

I have had very limited exposure to AMPI members during my stay. One agent that struck me as really outstanding happened to be the President of AMPI, Puerto Vallarta Branch. Another was totally on the opposite end of the pendulum, the type of sales agent that insistently self-proclaims their honesty, until you realize you'd better run like the devil. That advice actually holds true with a lot of folks, including but not limited to agents, customers, and clients and anyone else.
Don't you trust me?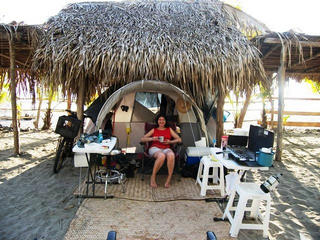 The key to finding good representation -- someone that's going to tell it like it is and not hold back, keep your interests at heart, guide you through the transaction process with a minimum of hassle -- is to find an agent that you feel totally comfortable with, someone non-pushy and knowledgeable, hopefully with recommendations from people you know. And, in Mexico, it's important to find someone who speaks Spanish well enough to communicate effectively with others. As in every real estate transaction, there will be vendors, contacts, and affiliated services that are required, and the successful agent knows who to call to suit the purpose. It's more than helpful and keeps you out of the pot-holes of a transaction if your agent can communicate clearly with others.

With my present knowledge, or lack thereof, if I were to purchase property in Mexico, I would, without hiccupping, seek representation. Rich

Market: From my palapa station below the border, I've been monitoring the market in Fairbanks, general markets throughout the U.S, Canada, and Mexico, and a bit of the rest of planet as well. Most of the U.S. is in serious market value decline, Canada started to feel the effects in late fall and is now at about half the rate of decline as the U.S. As I said before, as the U.S economy goes, so (doesn't) go the world, and the housing market in Mexico is no exception. In particular, the 2nd home market, right now is flat. Although Fairbanks has felt the sting, it's faring much better than most places, as our micro economy of military, university, government, and energy has kept our heads above water. With lowered prices, low interest rates, the new $8,000 tax incentive for first-time home-buyers, it looks like Fairbanks will survive with minimal damage. Some may say a 10% devaluation of property values is heavy damage but I say, look around at other locations to see what real damage is all about. Fairbanks is also a place where people live fulltime, work and raise their kids. The market can't be compared to 2nd homes in Mexico. Folks in Fairbanks need to buy and sell houses as a normal part of life. So Fairbanks, you're doing O.K. Right now, second home ownership is only an option for those with the desire and means.

Meanwhile, second home sellers in La Manzanilla or any similar location have had a very poor selling season. The money people no longer have as big a pot of gold and some retirees who have had their investment accounts diminish find themselves needing to rejoin the work force. Prices of homes in La Manzanilla held steady at the beginning of the winter selling season, as the market remained unknown. Although most of the homeowners appear fairly well off financially, slowly list prices started to come down as sellers either needed to move on with their lives, gain some equity, or dispose of excess property. It is now official: it is bargain season in La Manzanilla and similar areas.

Another Tidbit: Don't put money down on a proposed or under construction condominium project.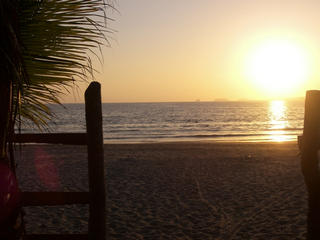 With every dark cloud there is a silver lining, and one of the bright points in a down economy is the opportunity for change. The transformation of Ejido to Titled land can be long, complicated, and expensive. As long as the market was hot, sellers received a good profit and the sales transaction was easy, so there was little incentive for sellers to go through the title process. A buyer in this current market has the advantage as they are a rarity and not easily dismissed. Buyers could conceivably make a reasonable offer contingent upon the seller, at seller's expense, establishing title for the property. Under this scenario it could be reasoned the buyer is getting titled property at Ejido prices. Now that would be a deal.

Well now, if you've read this far you know about half of what I know. To share all the information I've gained from this adventure, I'd have to take over this publication!

Well it's March 17th, should be back in the Fairbanks office first week of April so gotta go. Adios!

Hopefully this article will help dispel rumors of me lying on the beach every day. I smile when I hear that and also smile knowing I can run a Fairbanks real estate office from China if need be.

Well it's March 19th, should be back in the Fairbanks office first week of April so gotta go. Adios!
Rich Kelley is the owner/broker of Rich Kelley Realty and will be back at his office in Fairbanks, minus the palapa, by April 6th.